How to structure powerful customer communications that deliver more
Imagine receiving a survey with the following question:
"Would you like to spend $X million by passing this bond?"
How would you answer? The likelihood of a negative response is high if you don't know enough to give an informed answer.
Now imagine if the question was phrased this way:
"This fall, a bond to fund safety improvements in the local traffic infrastructure is under consideration. The overall cost of this bond is $X, and will be spent over A years, in B projects and C neighborhoods. Overall, at this time, how supportive are you of this bond?"
In this case, you can give an informed response to this query because the what, the why, and the how are included.
Best-selling author, entrepreneur, and marketing guru Seth Godin once said, "Communication is a path, not an event." Engagement approached in this manner is more effective because it creates dialogue, builds relationships, fosters brand growth, and encourages loyalty.
How communication builds loyalty—and how you can improve it
Customer loyalty is paramount to a brand's success. Building it should always be a fundamental goal of any business. One way to build loyalty is by paying attention to how your communication with your customers is structured.
1. Know what makes you unique
What problem does your product or service solve better, faster, and more efficiently than anyone else? That's your unique selling point (USP), also known as your unique selling proposition.
Effective customer communication is rooted in the articulation of your USP. Customers cannot and will not spend their precious time delving into your content to figure out why you should matter. You need to tell and show them.
2. Be transparent when you want something
Honesty and transparency tend to feature in most businesses' ideal reputation—how they want to be seen by their customers. One way to foster this image is to be upfront with customers when you need something from them. Asking for an opinion? Give them all the facts. Want them to make a purchase? Give them the terms before they buy.
By letting customers make their own informed decisions instead of coercing them into helping you out, you're treating them as smart, worthwhile individuals entitled to make up their minds on you. That in itself will make a positive impression.
This ethos can even be applied to communications designed purely to inform. If you're just writing to let them know a bit more about your company, say so: "I thought the story of how we started might be something you'd be interested in hearing." This shows that, whether you're right or not, you had them in mind when you made the decision to share.
3. Keep your main point simple and clear
With simplicity comes clarity, which accentuates authenticity. This in turn creates room for loyalty to take hold and grow. Convoluted messages are guaranteed to get lost in translation. When this happens, not only have you wasted your customers' time, you've also squandered yours.
When you keep engagement with your customers simple, communication is more successful because its meaning lacks ambiguity. Knowing the reason for the engagement helps keep the messages you create straightforward and easy to understand. For any transactional engagements, like confirming a purchase, keep the main message short and simple. This will allow you more space to add in touches of your brand personality in a more tangential way.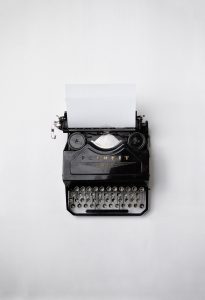 4. Become a master storyteller
Customers build lasting connections with brands they have an emotional connection with. Using storytelling is one of the best ways to make this happen. Not only do stories make your company seem more personable, but they also create a lasting impression.
The best stories are simple, humanizing, and show the audience that they play an essential role in the narrative. People want to deal with people, not faceless corporations, and stories are one of the best ways to make this happen. Stories can be used to tell people more about your business, from its origins to its values, letting you build up brand awareness over time.
5. Be consistent with your messaging
Messaging is integral to a company's branding. The same attention you pay to things like your logo and color schemes should also apply to any piece of information your customers receive, from social media posts to in-person customer support.
You should promote the same message across all the channels you use and apply the same brand voice when you do so. A consistent pattern of communication demonstrates your commitment to your customers – and it builds trust.
6. Use the right communication channel
Well-crafted communication will fail to reach the right audience if the wrong medium is used to deliver it. The right channel to use is the one your customers prefer and that you can afford.
Successful communication also requires the medium you use to match the message being sent. If the engagement is discussing a private issue, it should not be handled in a public forum. Acknowledge it at its source and then move the conversation to a more appropriate channel.
7. Use visuals
Our increasingly digitized lifestyle is causing our brains to have a shorter attention span. Studies show that we notice visual content more than we do text-only material, leading to higher levels of engagement.
Find opportunities for visualization in the information you need to communicate. Not only does it save customers time, but it also increases engagement and understanding by allowing for better retention of information. Make sure to preserve your brand identity by maintaining a consistent visual style in terms of color, typography, and so on.
8. Personalize engagement
Customers feel a personal and genuine bond with a brand that treats them like individuals and not as numbers on a spreadsheet. To be able to do this, you need to know as much about them as possible.
Technological advancement has made the collection of this type of data possible, within data protection restrictions. What you find out can then be used to create unique messaging that resonates and adds value. Speak to the values and ideals how know they hold.
9. Market less, educate more
To enhance customer loyalty and boost engagement and satisfaction, don't just focus on selling – educate as well. You can set up live demos or organize workshops. You can also create easily-accessible content that shares facts and DIY hacks that empower your customers and enable them to help themselves.
By giving them information that isn't driving towards a sale, you'll naturally build trust and become associated with positive experiences.
The more you give, the more you'll receive
Customer engagement leads to all sorts of positives for your business, so it's worth taking the time to boost engagement through delivering more value across your communications. Do this consistently and you'll see the benefits in your loyal and valuable customer base.