Why do your customers choose to buy from you?
If you thought, "because I have a great product that meets their needs", you'd be surprised to learn that isn't enough anymore. Today, many consumers will only buy from companies that are known for protecting consumer data.
A recent McKinsey study showed that 85% of consumers say that it's important to know a company's data privacy policies before making a purchase. 65% of business buyers will only buy from companies that are known for protecting their customers' data.
This begs the question: Do your customers know about your compliance efforts and trust your organization's ability to keep their data safe?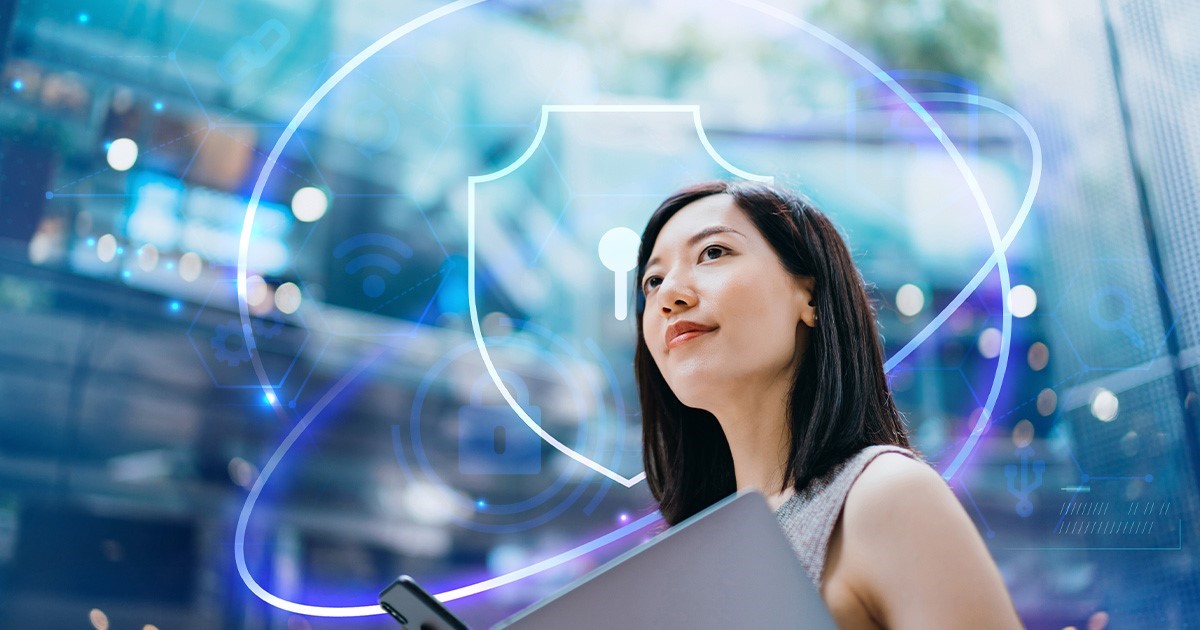 As data breaches become more common, consumers are becoming more cautious about sharing their data. Consequently, digital trust is becoming as important as other common purchase decision factors, such as product features, cost, and delivery time.
Securing customers' data is important, but it's only the first step. Your reputation when it comes to data privacy and security is what will pave the way for loyalty (or not). It's important to market your offerings, showing customers what they'll receive when they do business with you.
Interested?
Join us for Fueling Customer Confidence and Trust: 5 Critical Data Security Practices for Businesses!
How to build a reputation for great customer data security
Once you have the right policies and practices in place, it's time to communicate. Here are 7 marketing communication practices to build trust and address customer concerns on data privacy and security:
1. Communicate how you use and protect customer data
Ensure that your organization's privacy and security controls, processes, and procedures regarding customers' data are easy to find. Use your social channels and website to talk about your identity authentication and user permission controls.
Do you follow robust security protocols when selecting and vetting your vendors? Do you use encryption technology when transmitting sensitive information? Do you work with independent security researchers to test for and report any potential security vulnerabilities?
Whatever you do, talk about it so that your customers know how your company demonstrates a culture of security prioritization.
2. Publish your compliances and certificates
Give your customers peace of mind by providing a comprehensive set of compliance certifications your organization has achieved and the standards and regulations you adhere to.
At Sogolytics, we are transparent about our data privacy and security guarantee that lists all the processes in place to ensure data security, user security, and network security, including certifications and compliance achievements such as GDPR, HIPAA, PCI DSS, and ISO 27001.
3. Communicate your employees' role in security
Cybersecurity is everyone's responsibility.
There are lots of actions your organization might be taking to ensure your employees are capable of playing their role in security defenses – from vigorous background checks and regular security trainings to reviewing internal user data access rights and ensuring personal mobile device security.
Share these practices with your customers so they know that they are doing business with an organization that has a security-first culture.
4. Enable your product users to do their part
One more time: Cybersecurity is everyone's responsibility. Ensure that your clients know what they can do to improve security – at both an organizational and an individual level.
As we work with our clients on their own research and feedback projects, we know that many require internal and external data-sharing. That's why we brief our clients about the importance of controlling access to sensitive information to keep it secure.
Our platform allows account administrators to create and manage sub-accounts and determine permission levels, eliminating risky password sharing, confusion, and inefficiency, while maintaining data privacy. Moreover, we make it easy for our clients to reach out to us immediately if they suspect that security has been breached, so immediate action can be taken.
5. Help customers meet their own compliance obligations
Many businesses find it challenging to comply with the growing number of data privacy standards and regulations. You can help your customers by educating and assisting them in achieving their compliance obligations. For example, you might:
Provide resources to help your customers better understand and comply with data privacy laws.
Provide resources on best practices and innovative ideas to ensure cybersecurity.
Clearly communicate how your product can simplify compliance and help their security goals.
Sogolytics also regularly shares pro-tips and expert advice via blog and webinars, such as "How to Guarantee 100% Cybersecurity [or at least come close]", "The Summer Security Shred Challenge", or this eagerly anticipated webinar with our CEO, Hamid Farooqui, sharing "5 Critical Data Security Practices to Ensure Customer Confidence and Trust".
6. Be transparent and proactive in the event of a breach
Christian Espinosa, the author of The Smartest Person in the Room, explains, "Customers would always rather know sooner rather than later. Too many organizations try to sweep events under the rug and hope they go unnoticed. When customers do lift up the rug and realize you knew about the issue for months, they get angry, and trust is broken."
The only viable option to maintain customer trust in the event of a security breach is by taking immediate ownership. Ensure you are prepared to take action such as notifying the affected clients via email with all the necessary information for them to be able to take preventive steps. Then proactively update your customers on all testing and vulnerability investigation results.
7. Enable a two-way dialogue to facilitate transparency and collaboration
Customers today want security assurances from the companies they choose to do business with. They also need a forum to raise their security concerns and confidence that every case will get the attention it deserves. Whether it's a ticketing system, a dedicated account manager, or any number of other communication channels, your clients need to know how to reach out and your team needs to know how to respond in a timely manners.
The stakes are high and it's critical that your approach to data security earns the confidence of your customers and your prospects.
Ready to turn data protection and security into a business advantage?
Don't miss our upcoming webinar led by Sogolytics CEO Hamid Farooqui to learn about data security best practices that can make all the difference.