Your business doesn't want to make mistakes, yet failures do happen. A well-timed and genuine apology can help the business recover with customers. But issuing a public apology isn't always the right answer. This article discusses exactly how and when to apologize to customers in order to have the most positive impact.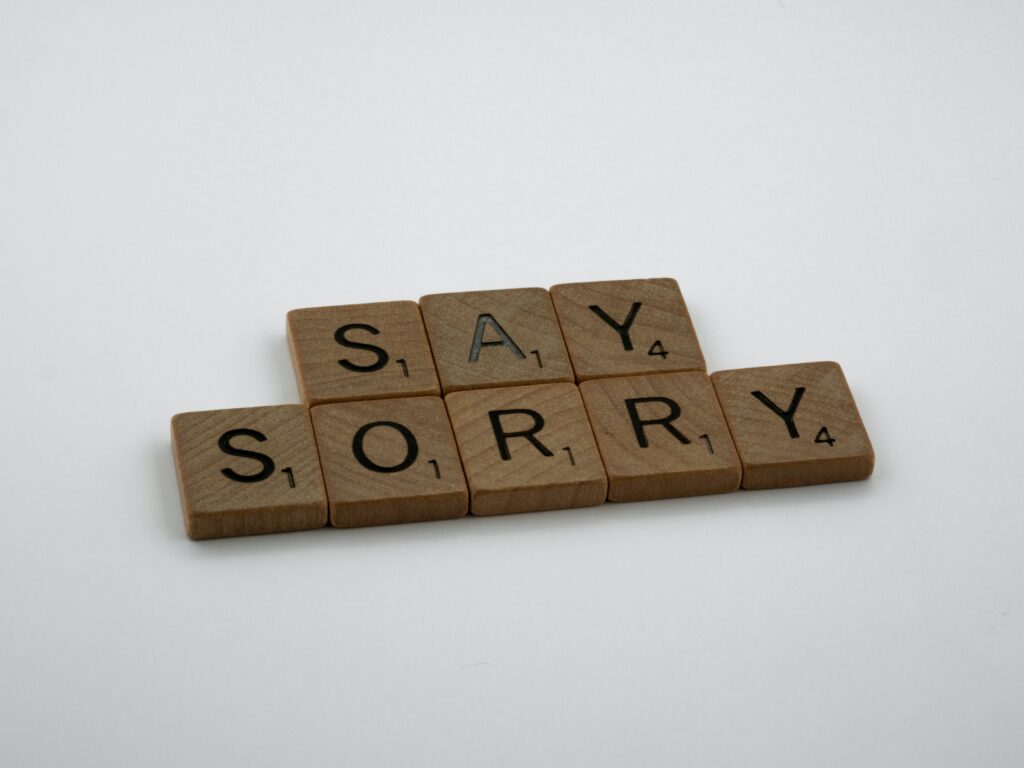 The art of apology
A business apology to your customers can:
Acknowledge injury or damage
Take responsibility for a mistake
Express regret
Show remorse or humility
Ask for forgiveness
Convey commitment that something won't happen again
Offer some form of compensation or restitution
Offering an apology can help strengthen your business and rebuild customer trust. Take JetBlue's CEO Robin Hayes who offered an apology for April 2022 delays and cancellations at Logan International Airport. While announcing a new flight to London from the Boston airport, he told the assembled press, "We are really sorry for everyone that was disrupted. We take canceling any flight personally." He added that he understood "the frustration" and that the company would learn and improve where it could.
When (and when not) to apologize to customers
Having leadership make a public apology can be wise, and earn you a second chance with your customers. Yet, business apologies are complicated. They are not always going to be a good idea.
When to apologize
Apologize when you, your team, or your company has made a mistake or caused a problem. There are many things that happen in the course of business that could qualify for an apology, including:
Your application or hardware fails
There is a data breach at your company
You've provided poor customer service
Your product is defective
Shipping is late or poor
You've made a billing or other financial mistake
You've missed a service call
A deadline is missed
Employees act improperly
Done right, apologies are an opportunity to improve customer loyalty and satisfaction. It may seem counterintuitive, but many times the customer really just wants an explanation, or to feel heard and appreciated.
You can read examples of different business apology letters at Small Business Trends.
When not to apologize
Some companies or employees are quick to apologize. "The customer is always right," after all. Yet other businesses will be more selective.
If the issue was caused by circumstances beyond your control, you've delivered what you promised, or the customer is clearly at fault, you might not want to apologize. Although it's still a good idea to train your customer service people to help guide the customer to a solution.
Apologizing when the same thing has happened over and again is also unlikely to help. By the second or third time the customer is encountering this same problem, they are not going to hear or trust your apology. You need to instead take action to permanently resolve the issue.
You might also want to avoid apologizing after your legal department weighs in on what you can say. Certainly, you'll want to be careful with the wording of your apology, in order to avoid liability or overpromising restitution.
How to apologize to customers
When you've decided to apologize to you customers, you'll want to ensure you do so the right way. These strategies can help you make effective apologies.
Be genuine
Sincerity matters. An apology that justifies or defends an act or dodges responsibility is more likely to be seen as a "non-apology" apology. If you are not sorry, or not responsible, don't apologize.
Where you can, empathize with the customers you are apologizing to. Think about how you would feel and try to convey that you understand. Some sample phrases to demonstrate empathy include:
"I would be frustrated too if this happened to me."
"I'm deeply sorry it has taken us so long to get your order fulfilled."
"We realize we've let you down. That is unacceptable."
Get the full picture
Before apologizing, make sure that you understand the problem fully. Getting context before you offer help or a solution can ensure that you actually address the issue appropriately.
This can help you with another critical aspect of a proper apology: specificity. Simply saying or writing "We're sorry for your inconvenience" isn't enough. Your apology will be better received if you can specify the problem. For example, "We're sorry that our ordering system was down this afternoon."
Avoid blaming others
Take ownership of the issue and communicate what steps you will take to set the situation right. Passing off the blame onto others is going to read like a non-apology.
Acknowledge your mistake, and don't sugarcoat it. A brief, straightforward apology can help you rebuild relationships. Don't risk making things worse by playing the blame game.
Have leaders speak up
When the stakes are high, go with an apology from senior leadership. Have them take responsibility and communicate that they are not only unhappy but disappointed by the company's performance. Then, indicate what plan of action is being introduced to ensure that the problem doesn't happen again.
Think globally
Apologies differ across countries. In some cultures simply saying you're sorry will do. In others, you need to provide a written apology, or bow when providing a face-to-face apology to demonstrate your sincerity.
Ask for feedback
As part of the apology, you can also ask for some customer feedback. Or contact the customer again to see if there is anything further that can be done to help them. You might also just follow up to provide an update on the changes you've implemented to avoid a similar issue in the future. By checking in again after the apology, you can demonstrate that you appreciate their support and want to continue to do better.
Apologizing to customers is important, but before it ever even comes to that, it's important to have a process in place that will alert you when customer dissatisfaction and concerns arise. That's where Sogolytics can help.
SogoCX helps you capture capture critical insights with powerful features, like a custom CX dashboard and dynamic reports providing real-time alerts about (positive and negative) customer feedback.
By catching red flags early on, you can take action to mitigate problems when they first arise. Want to learn more? Let's get on a call, and we'll discuss how SogoCX can help you!