Restaurants, retail, or healthcare — it seems no one is safe from the wrath or reward of online reviews. But whether you have a satisfied customer or a frustrated patient, you can effectively manage your online reputation by getting ahead of the digital feedback wildfire that can likely spread from the spark of a single review.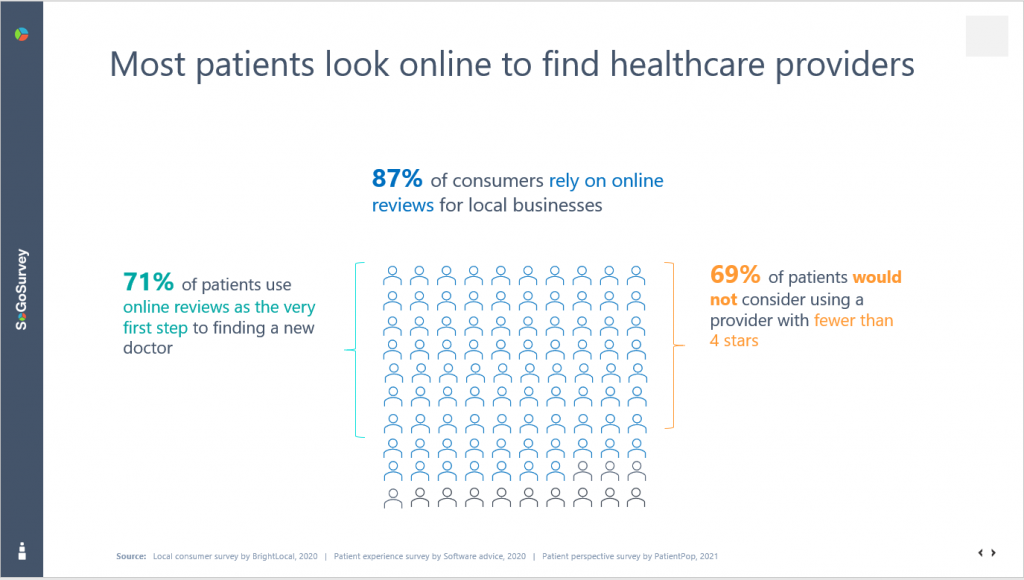 Be the reputation you want to see online!
Unless you rely on a word-of-mouth recommendation for local sushi, or take your Aunt Stacy's advice for a primary care physician —  some 87 percent of people make their decisions, healthcare or otherwise, based on online reviews. A business's online presence directly affects its ability to attract new customers, or to scare them away before they even have the chance to consider your services. Getting ahead of negative feedback and actively forming your online reputation is key. Listening, interacting, and directly responding to feedback online can greatly shift the narrative and show that transparency, empathy, and ownership matters to your practice.
Ask for the data you need
Don't have a ton of online reviews of your business? No problem. Start from square one and incorporate review collection into your daily process. When you close out the final paperwork or receipt, take a moment to ask the patient to do a review. Consider offering them a tablet or phone that is queued up for a review while you "finish the paperwork." Generate the online data you need to establish your reputation by going straight to the source, when your services are top of mind.
A CX platform is your secret weapon
Not to toot our own horn, but our feedback management platform does a pretty good job at helping make this process streamlined, automated, and more efficient than if you were to try to collect reviews without any online reputation management software. Your brand's reputation is defined by the patient experience you deliver, so with a CX platform at your disposal, you also have control over how to manage their compliments and concerns. Drive happy patients toward review sites, and unhappy patients toward customer service resources. When a patient takes a survey, you can ask them an NPS question like, "Would you recommend our practice to a friend?" or a CSAT question like, "On a scale of 1-5, how satisfied are you with your visit today?"
If their answer is generally positive, you can prompt them to visit review platforms to share their feedback publicly. If the feedback is negative, you can direct them to your customer service team and effectively close the loop with them privately.
You have the tools
No matter how you slice it, people talk on the internet, and likely, it's people with an overwhelmingly positive or a steaming-mad negative experience. Your business's reputation hinges on your ability to respond to either scenario in a timely, professional, and empathetic manner. Be a part of the conversation, and prevent your practice (and your revenue) from being dragged along with the Yelp review tides. Step up to the keyboard, pull up your CX dashboard, and get to work. You got this!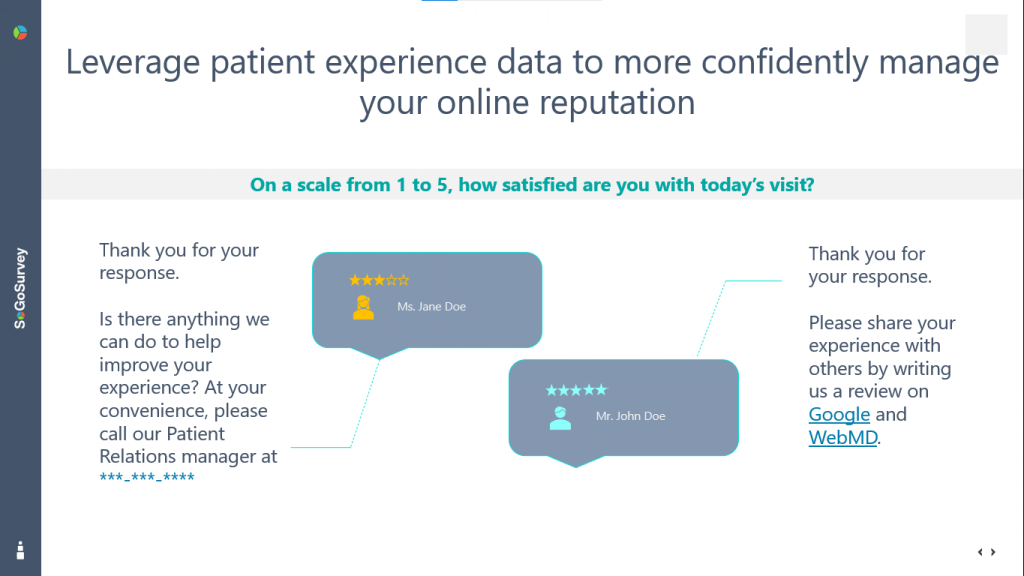 We covered all this and more in our "Leveraging Sogolytics features for effective reputation management in healthcare" webinar. Check out this and other on-demand webinar sessions here!