If you're surprised to find that January is already over, you're not alone. From global to national to local levels, there's been a lot going on. Before we get too far into 2021, though, we're taking a chance to reflect on some of the high points of 2020 — Sogolytics edition, of course! Despite so many moving parts and pieces, a shift to remote work, and a continually expanding range of solutions, we not only made it through the year but we put out several strong releases and strengthened our already powerful products.
Were there other highlights of 2020? Sure, but there are other blogs, too! 😉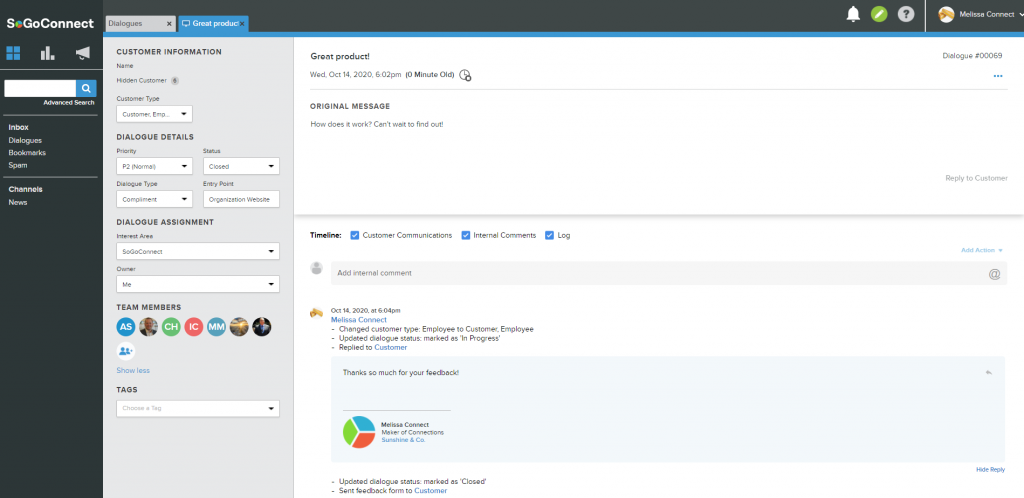 Building the experience management toolbox
SoGoEX
While our core platform offers numerous options for studying and analyzing employee satisfaction and engagement, we've evolved our employee experience solution into a fully fledged product: SoGoEX. Beyond the ad hoc results from occasional surveys, SoGoEX makes it easier for organizations to automate data collection with a systematic approach. From an employee directory to fully developed employee pulse check and employee engagement questions, our EX solution delivers timely results to a powerful dashboard that lets you drill down on key groups and trends to understand what's happening within your organization — and make plans to improve.
SoGoConnect
Collecting feedback is great, but there's nothing better than closing the loop. Call it case management, ticketing, or whatever you want: SoGoConnect allows you to collect feedback from surveys, from your website, or from just about anywhere — and then route it to the right people on your team to provide a timely response. Within this secure environment, permission-based access allows teams to collaborate and for administrators to track workload, timeliness of responses, and customer satisfaction. In connection with customer experience or employee experience strategies — or both! — SoGoConnect allows you to ensure that each loop is fully closed and nothing falls through the cracks.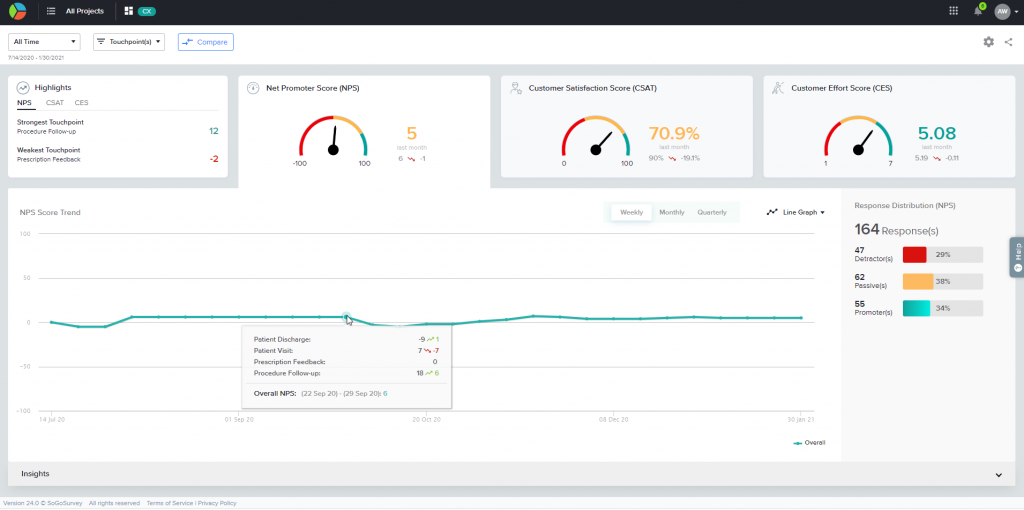 SoGoCX: Enhanced customer experience
Touchpoints
Each interaction in the customer's journey is critical in developing their view of your organization and relationship with your brand. Whether they experience friction or ease at each stage determines how likely they are to stick around, so checking in at the customer touchpoints offers valuable and actionable insights to improve your customer experience. SoGoCX offers the ability to associate specific questionnaires with key touchpoints along the customer journey to ensure the right questions are asked at each stage. Then, track trends in key metrics — NPS, CSAT, CES, etc. — to see which points are boosting your customers' overall experience and which need to be reevaluated. Compare specific touchpoints across the dashboard for even more valuable insights, across time and across different customer segments.
Custom metrics
As valuable as the most common key metrics can be, there's more to customer experience than Net Promoter Score, Customer Satisfaction Score, and Customer Effort Score. Of course, you've always been able to customize your own rating questions, but now these questions can be designated as Custom Metrics and tracked across the dashboard like the rest of the key metrics. To make the most of this option, consider (1) what you're most proud of, (2) how you want your customers to judge you, and (3) what matters most in your industry. For example, you might choose to measure customers' perceptions of your offerings with regard to professionalism, knowledge, customer service, or value. Once you've chosen the measure and set the scale, a Custom Metric will be accessible in other projects as well to enable you to track how well you're doing across touchpoints.
Key Driver Analysis
Diving deep into the reasons behind the metric ratings has always been a part of SoGoCX, and we've now expanded the capabilities of key driver analysis. In addition to the expanded flexibility of the Key Driver Analysis Report, KDA is also now part of the CX dashboard. Based on the touchpoints and metrics selected, a quick analysis delivers insights into the areas that offer the greatest opportunities for improvement. Deepen your insights by adding other rating questions to the analysis, even if they weren't initially set up as Key Driver questions.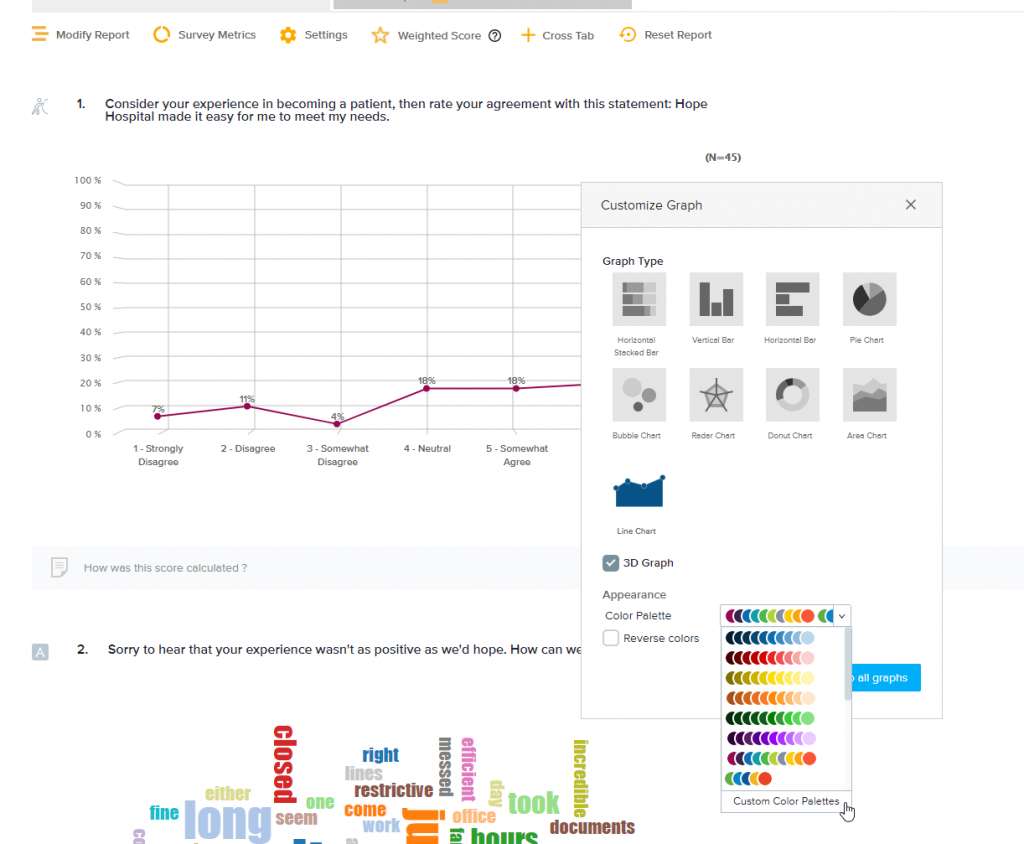 Reports: Drilling down deeper
Omni Report expansion
What gifts can you give to the one report that already has it all? The Omni Report now packs an even more powerful punch with its continually updated arsenal. Interested in analyzing the overall weighted score? An easy-to-use widget allows you to customize your preferences and incorporate into the full report. You can now also incorporate a cross tab report into your Omni dashboard, delivering dynamic insights and analysis — including colorful conditional formatting with heat map clarity — to your team members in real time. Want to really impress your team — even beyond the data itself? Customize color palettes for your charts and graphs to present meaningful results that look great, too.
Text Analysis Report
Beyond verbatim responses and word clouds, we've taken analysis of open-ended response to the next level with the Text Analysis Report. A complement to quantitative analysis, this qualitative analysis utilizes natural language processing (NLP) to deliver both sentiment analysis and thematic analysis. As with all reports, filter and refine selections to drill down on key groups. Consider adding a specially trained analytical model based on the most common topics and trends of your industry. Expanding your audience? Consider multilingual text analysis, too.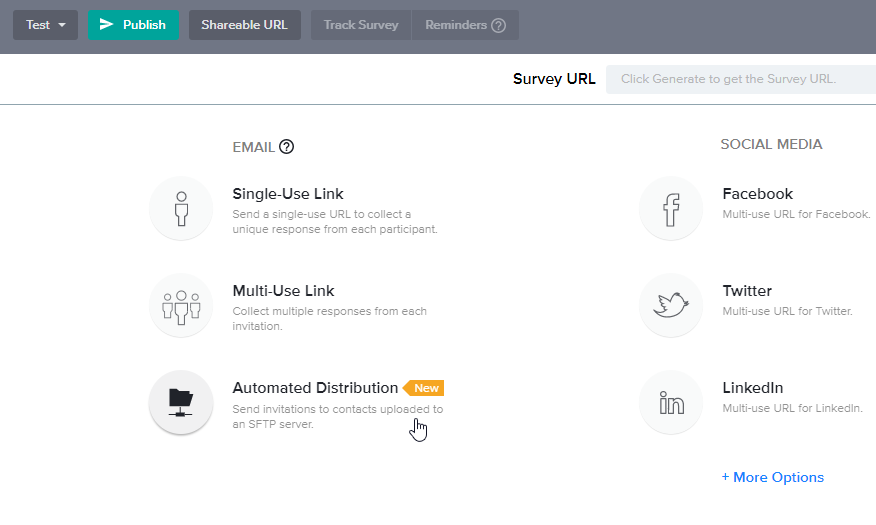 Distribution: Delivering better workflows
Automated distribution
In keeping with the focus on ongoing experience management, our automated survey distribution options make it easy to reach out to customers or employees at key touchpoints to better understand their experience. With this systematic approach, it's easier to cover all of your bases and keep data coming in at all times. Set the rules for when and how invitations and reminders should go out, then sit back and let the automation work for you!
Recurring surveys
Running a weekly employee pulse survey or need to send a daily health check? Build your survey, build your contact list, and then set up recurring survey delivery! Again, automation is the name of the game — why spend time doing something manually when you don't have to? Include mail merge, pre-population, and anything else you need to encourage participation and make the most of your reports, and you'll soon be tracking important metrics over time and collecting valuable feedback — automatically.
API enhancements
While API may be alphabet soup to some, to others it's the key to bringing all the pieces of a puzzle together. Beyond native integrations like Salesforce and partner integrations like Zapier, API verbs allow for our Sogolytics platform to connect with your most critical tools to streamline workflows and, well, to make your life easier. We're continually expanding in this area, and the list of Sogolytics API verbs just keeps getting longer and longer — allowing you to be more and more productive.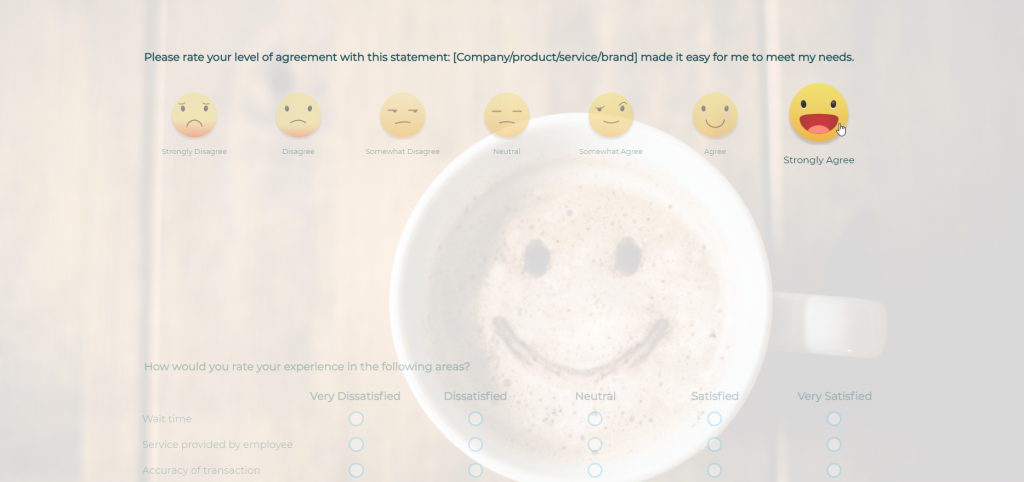 Participation: Bring it on
Enhanced Participation
You can have the greatest reports and best features, but if nobody responds, you're out of luck. The participant experience is a key focus of our development process, and Enhanced Participation really delivers. Rolled out steadily and systematically, early user testing showed great results and now this new framework provides the default participant experience. On the development side, this update allows greater scalability. On the participant side, it's all about performance: truly instant alert messages, more responsive scales, focus mode, search functionality in long Drop Down questions, greater accessibility, and plenty of speed.
Offline participation
Our clients collect data around the world, no matter the available connectivity. To improve feedback collection at any time or place, we offer offline participation options. Again, the participant experience is paramount: If they don't respond, you don't have any data. Therefore, making it as easy as possible for them to provide feedback when and where it's convenient is a top priority. Upload results, run reports, and bring all the data together — a more representative sample delivers more representative results.
Project workflow enhancements ​
Once responses come in, what happens next? In addition to turning responses into tickets for follow-up in SoGoConnect, our enhanced Rules & Alerts options now offer even greater control of your workflow. Set advanced multi-part conditions to determine which responses should trigger which alerts, or even choose to send activity digests rather than a flood of separate messages. Use piping in the alert message to highlight critical details and link recipients to your selected reports to deliver the full picture and inform follow-up action.
Want more?
While these are just a few of the highlights of 2020, you'll find more goodies in your account. If you've missed any along the way or you want to know more about the latest in your own package, join a What's new? session and get caught up.
Got more ideas? Click the Suggestions button in the Help Center in your account to drop your feature requests and inspiration our way.