There's a certain buzz in the air any time Apple, Inc. has a new release – can you feel it? With a big event on the books for September, blogs all over are filling up with predictions and best guesses. While no one would consider me a techie or even an early adopter, I do really enjoy reading all of the theories that come out prior to a launch.
From wild predictions to cases for why a long-awaited feature should be introduced, pre-release makes for a season of great reading. Without a doubt, my favorite part is learning about the impact the new features will have on users – all 700 million of them. Apple has a reputation of pushing the limits of design, going back to the philosophy of co-founder Steve Jobs: "It's really hard to design products by focus groups. A lot of times, people don't know what they want until you show it to them." I think this approach is partially responsible for the excitement that comes with each new release – people are waiting to be "wowed"!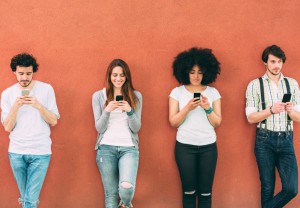 Right now, the word on the street is that Apple plans to unveil three new iPhones in September: iPhone 7S, iPhone 7S Plus, and iPhone 8. For those casual technology consumers (like me), you should know that the iPhone 8 is the one getting all the attention. The big rumor is that iPhone 8 will feature a radical redesign that includes removing the home button. Of course, that's just a rumor… or is it? With the redesign and removal of the home button, all those happy owners will have a larger screen without having to commit to owning a larger phone, offering better visibility for everything they want to see and do on their phones.
All of this anticipation got me thinking about how Sogolytics users and participants might be impacted. The great news is that all surveys built in your Sogolytics account have been optimized for display and participation on devices including mobile, tablets, laptops, and desktops. No extra steps required!
The best part about designing your survey is that you can also customize the appearance of your survey for mobile by choosing from a variety of mobile templates. Just last week, I customized a survey I was working on and then previewed and tested it on my iPhone before launching. This guarantees participants will have a successful experience with a survey that is easy to read and respond to.
If you're interested in optimizing your survey for mobile, check out these recommendations and our list of suggested question types. Good luck designing your survey and let us know if you need help. Until then, I'll be holding my breath for the unveiling of the iPhone 8… the only way my survey could look any better than it does already!