Are we still talking about sustainability? Absolutely! Beyond our total appreciation of corporate social responsibility overall, the long-term success of companies as well as the environment are related! While some may view sustainability and CSR as separate pieces that work in conjunction with each other, in many ways, thinking of sustainability as part of CSR will encourage goals and milestone creation among organizations.
With total digital transformation sweeping through the world and the effects of COVID still rippling, the importance of remote work cannot be overstated! While many people loved it when the world was opening back up after lockdowns, one thing many employees found that they still enjoyed was remote work. A report by McKinsey found that while 52% of employees would accept a flexible work model post-pandemic, over 60% preferred some sort of remote work options. Remember how we previously spoke about empathy's effect on CSR, and how listening to your employees about what matters to them can lead to great CSR initiatives? Well, the shift toward remote work is a great example of how the voice of the employee has changed work as we know it.
This shows a growing trend of employees preferring a hybrid of physical and remote work options from their employers. This goes against the assumption of many in leadership that employees were ready to come back into the office as quickly as possible and didn't enjoy remote work.
However, there is a great benefit to this change, which is that sustainability measures can easily be built into hybrid and remote work options!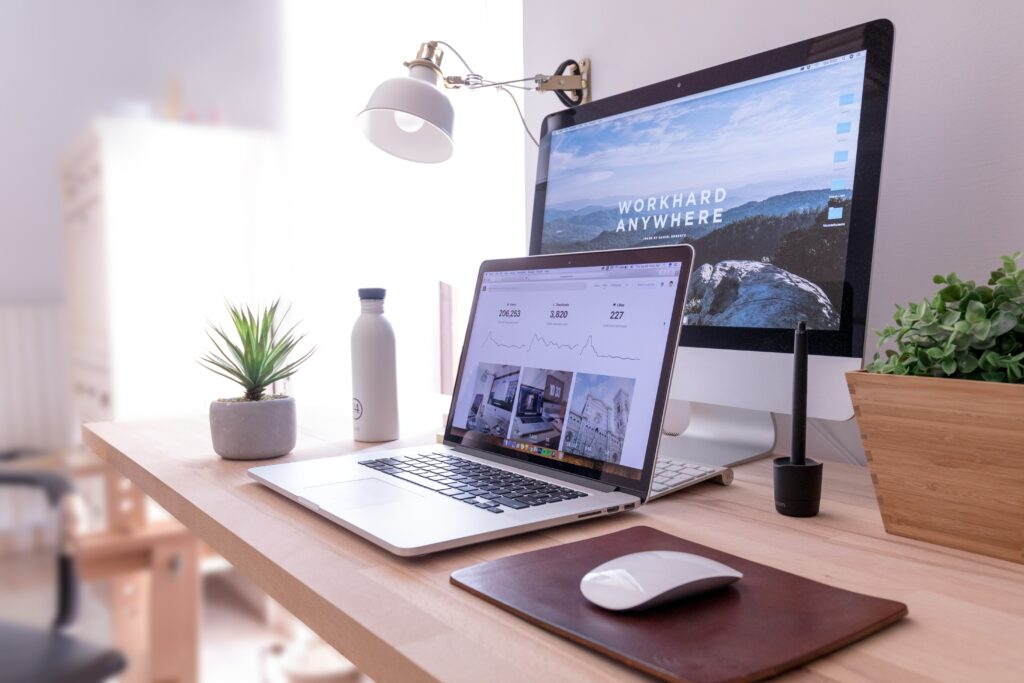 Lower Costs
Really! Having employees work wherever they are, be it in full-remote or hybrid programs, lowers overhead costs in utilities, office expenses, and more. The employees are using their own space for working, while incurring their costs individually. These savings are therefore returned to the company to invest elsewhere.
Not to mention, remote work may even help you gain—and retain—greater talent. If you can hire employees from anywhere in the world, you won't limit your pool of potential candidates to only your local region. This can also lower potential marketing costs for finding candidates, decrease the time spent on recruiting, and allow you to retain better talent. Remote and hybrid work availability typically means that a company is agile, flexible, and forward-looking. Job-seekers tend to like those traits in a potential employer.
Many companies also found strengthened organizational performance from their employees in these models, as satisfaction, morale, and engagement were higher. A greater corporate culture can be fostered with this increase, too. These organizations also found they could create a more diverse workforce from expanding their national or global recruiting efforts!
Lower Carbon Footprint
Perhaps one of the most obvious benefits of remote work is the reduction in carbon footprint. Without the need to travel back and forth for work or lunch breaks, remote and hybrid workers assist in lowering their carbon footprint simply by not driving in their vehicles.
A carbon footprint is the collective greenhouse gas (or GHG, for short) caused by an individual, group, organization, event, product, etc. This happens during the consumption of fossil fuels, like driving a car that runs on gasoline. We spoke about climate change and global warming previously, and commuting regularly contributes to that danger. With remote and hybrid work, organizations can lower their overall carbon footprints while helping their individual employees lower theirs, as well. This is a great way to invest in simple sustainability measures that accumulate greater impact over time.
Greater Chance for Investment
The purpose of sustainable measures and initiative is to improve both the long-term success of organizations and the environment. Through lowering costs, reallocating budgets, or adjusting spending on office spaces and more, companies can find themselves with more money to invest in other places—particularly technology. As we continue into the digital age, it seems likely that deep machine learning, AI, and even the metaverse could provide better customer experiences and employee experiences.
Imagine: more investment into customer mapping software for better customer experiences along touchpoints, greater ROI from targeting marketing efforts for your products and/or services, or more investment into other CSR initiatives! It's certainly possible if you build on each successful initiative you start and sustain.
Sustainability Takes Time
Sustainability isn't something that can be done overnight, and, for sure, there are many organizational changes that have to be made in order to facilitate remote or hybrid work. But the efforts are worth it, since they lay the groundwork for a better tomorrow. As we know better, we must, as humans, do better.
Now is the best time to get feedback from your employees and consumers about what matters most to them, and use that info to decide which initiatives to start with. Don't know where to start? We're here to support your efforts!